| | |
| --- | --- |
| Features: | --- |
The HUBOSD8 has been engineered to provide the highest possible performance and reliability in a 46*36mm & 4 layers PCB. It is a multifunctional HUB with PDB, BEC 5V/2A &12V/500mA, Current sensor 140A, STOSD8. It is specially made for the mini FPV Quad. The BEC 12V is linear regulator, no LC Filter needed. Built-in STOSD8 can support Plug & Play, no complicated settings needed.
Matek Multi-rotor X-shape Power Distribution Board W/ 5V/ 12V outputs, Current Sensor, OSD (XT60 Connector)
General
Input voltage range (3S-5S operation): 8 - 21VDC
PDB: 4x30A (Max.4x35A)
Regulated 5V and 12V outputs
Current Sensor 140A Built-in STOSD8
Physical:
- 2oz copper, 4
-layers &1.6mm PCB.
- 1x Battery input, 4x ESC outputs. 2x BEC 5V outputs, 2x BEC 12V outputs.
- Camera signal & Gnd pads, Video Transmitter Signal & Gnd pads
- 1x Serial port (RX, TX, G)
- Dimensions: 51x36x4mm, Weight: 9g
- Mounting holes 30.5mm square spacing,Φ3mm

PDB (ESC output)
Continuous current: 30A per output
Peak current (10 seconds/minute): 35A per output
BEC 5V output
Designed for RC Receivers, Flight controllers, OSD, and Servos.
DC/DC synchronous buck regulator.
Voltage: 5.0 +/- 0.1VDC
Continuous current: 2 Amps (Max.2.5A 10s/minute)
Output Ripple: 40mV (VIn=16V, VOut=5V@2A load)
Short-circuit tolerant (5 seconds/minute)
BEC 12V output
Linear regulator, very low noise. LC Filter is needless.
Designed for Video TX or FPV camera.
Voltage: 12.0 +/- 0.3VDC (4~5S operation)
Continuous current: 500mA@16V IN, 400mA@20V IN
Short-circuit tolerant (2 seconds/minute)
If the battery is 3S LiPo, Output voltage=3S LiPo voltage - 1V
Current Sensor
140A
If current >140A. STOSD display 140A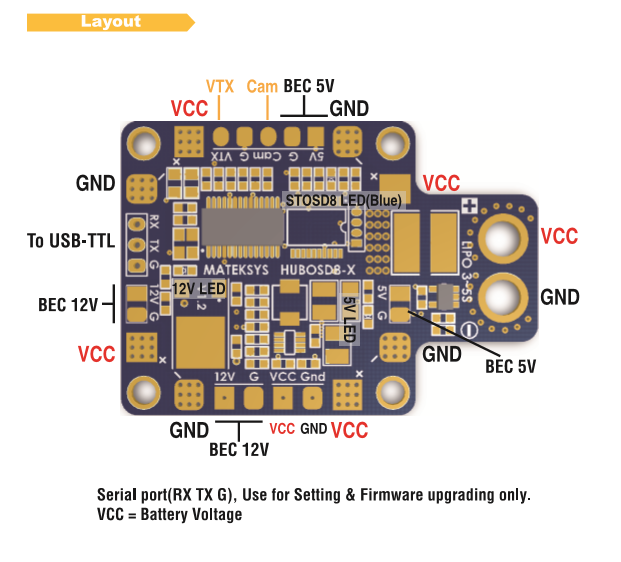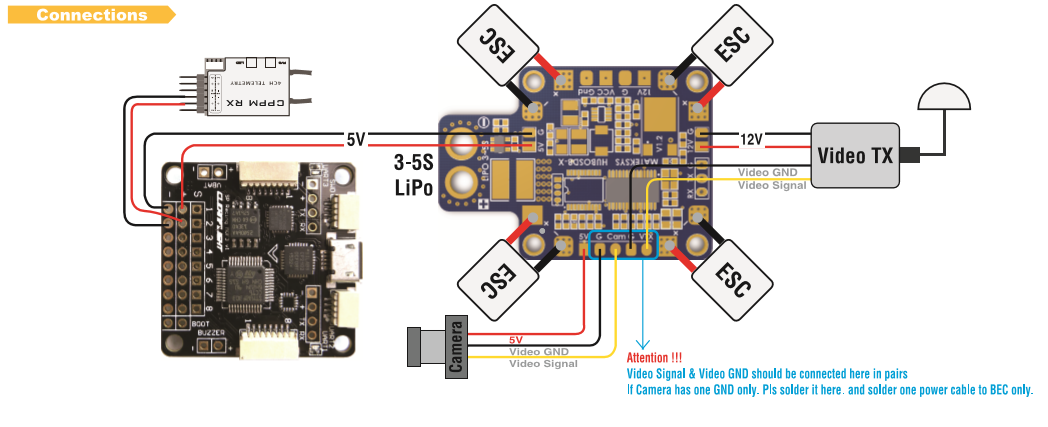 Includes:
1 x Matek Multi-rotor X-shape Power Distribution Board W/ 5V/ 12V outputs, Current Sensor, OSD (XT60 Connector)